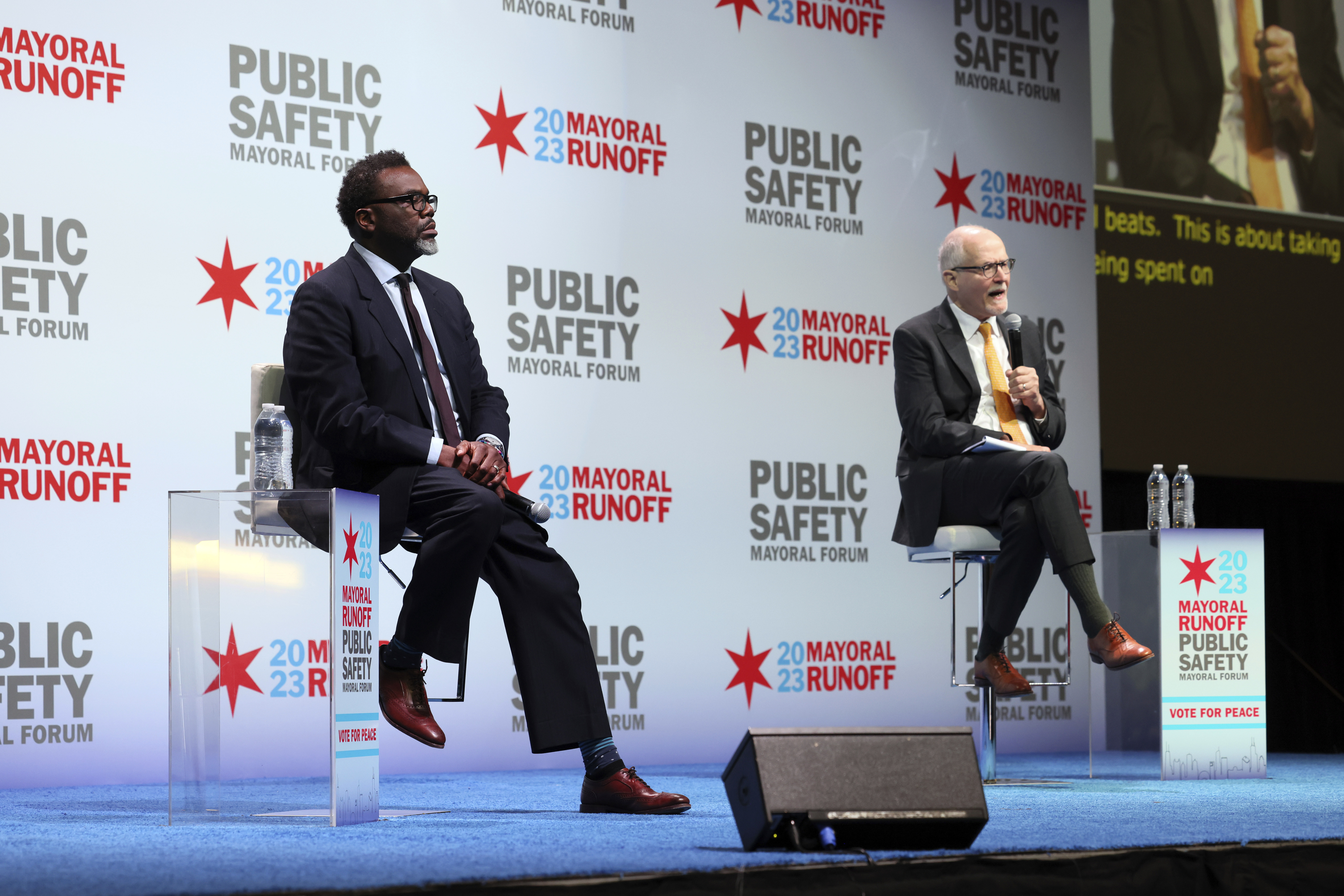 CHICAGO — The race for mayor in the nation's third-largest city was still too close to call, with county commissioner Brandon Johnson and former public school executive Paul Vallas separated by the narrowest of margins with nearly 500,000 votes already tallied.
Given both candidates pushed supporters to vote by mail, Vallas and Johnson want to wait for outstanding ballots to be counted before either claims victory. The city Board of Elections will accept mail ballots until April 18, as long as they were postmarked by Tuesday.
Board of Elections spokesman Max Bever said "tens of thousands" of ballots are expected to arrive on Tuesday or after to be counted.
Vallas and Johnson are vying to succeed incumbent Mayor Lori Lightfoot, who lost her reelection bid during the first round of the election Feb. 28.
In that contest, Vallas, the only white candidate among nine contenders, came in first with 33 percent of the vote, followed by Johnson at 22 percent and Lightfoot at 17 percent, propelling Vallas and Johnson to Tuesday's runoff.
The outcome of the Chicago mayor's race has been closely watched as Democrats across the country try to grapple with messaging over crime. Two years ago in New York, Eric Adams won his party's nomination and, later, the general election running to the right of his fellow Democrats on criminal justice issues.
Vallas, 69, and Johnson, 47, played to their bases during the first round of the election, with Vallas on the right, courting moderates and Republicans in the nonpartisan race, and Johnson on the left securing support from Democratic Socialists.
They both steered their campaigns to the middle for Tuesday's contest, trying to woo supporters of Lightfoot and Rep. Jesus "Chuy" Garcia, who came in fourth during the first round.
Vallas and Johnson touted big-name endorsements in hopes of swaying voters. Johnson was backed by Sens. Bernie Sanders (I-Vt.) and Elizabeth Warren (D-Mass.). Johnson also was endorsed by civil rights leader and Chicago resident Rev. Jesse Jackson.
For his part, Vallas was endorsed by Sen. Dick Durbin, popular former Illinois Secretary of State Jesse White and Tom Tunney, an alderman and chair of Chicago's powerful Zoning Committee.
Both Vallas and Johnson also were embraced by powerful unions, which helped fuel their bases but also raised concerns among moderate Democrats about how they would lead.
Vallas is endorsed by the Chicago Fraternal Order of Police, and Johnson is backed by the Chicago Teachers Union, for which he also worked. The CTU also funded Johnson's campaign, donating more than $2.5 million to the effort. While Vallas accepted the FOP support, he didn't take money from the organization.