The leader of the American Democrats in the House of Representatives angers Beijing with this action.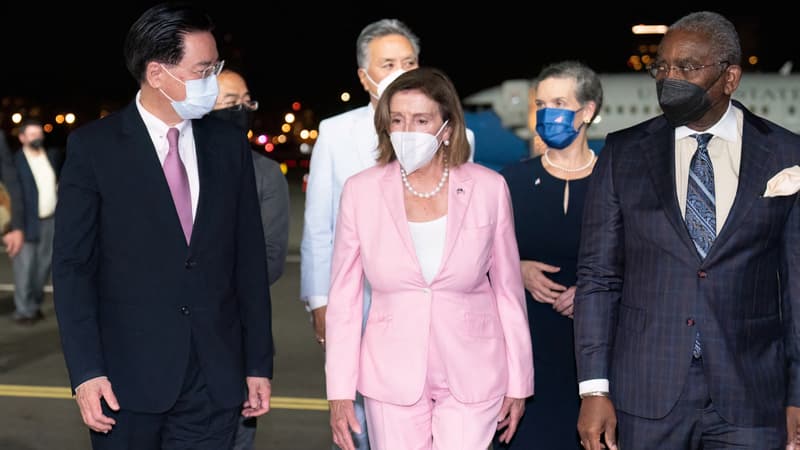 The Chinese threats will not have changed anything. Nancy Pelosi, Speaker of the US House of Representatives, arrived in Taiwan on Tuesday. A landing particularly followed internationally for the diplomatic consequences it could have .
Indeed, China has assured in recent hours that the United States "will pay the price" if ever the parliamentarian went to the end of this initiative. This is the first official US visit to the island in 25 years. This visit is highly likely to increase tensions, already high, between Washington and Beijing.
"Our delegation's visit to Taiwan honors the United States' strong commitment to supporting Taiwan's vibrant democracy," Nancy Pelosi wrote on Twitter.
Our delegation's visit to Taiwan honors America's unwavering commitment to supporting Taiwan's vibrant Democracy.

Our discussions with Taiwan leadership reaffirm our support for our partner & promote our shared interests, including advancing a free & open Indo-Pacific region.

— Nancy Pelosi (@SpeakerPelosi) August 2, 2022
Beijing denounces an "extremely dangerous attitude"
The Chinese Foreign Ministry quickly "condemned" the visit in a statement broadcast by Chinese television CGTN. According to the state media, the displacement of the American sends "bad signals" to those who defend "independence of Taiwan". For Beijing, the United States has an "extremely dangerous" attitude.
Shortly before landing Nancy Pelosi, Chinese fighter jets crossed the Taiwan Strait, which separates the island from China.
"The American side has betrayed its word on the Taiwan issue," Chinese Foreign Minister Wang Yi said in a statement, referring to the United States' commitment since 1979 to have no official relations. with Taiwan.
Nancy Pelosi rejects this view, explaining that her visit does not contradict the 1979 agreement. "The United States continues to oppose unilateral efforts to change the status quo ," she said in a statement . .
AFP