Flight tracker reveals empty skies above Ukraine as military conflict intensifies, UK flights banned from Russian airspace
International airlines have stopped flights over Ukrainian territory with the escalation of Russian military activity in the country. A warning has been issued by the European Union Aviation Safety Agency (EASA) for commercial flights to avoid Ukrainian airspace as well as areas within 100 nautical miles (185km) of the Russian and Belarus borders.
"In particular, there is a risk of both intentional targeting and misidentification of civil aircraft," the EASA said.
"The presence and possible use of a wide range of ground and airborne warfare systems poses a high risk for civil flights operating at all altitudes and flight levels."
In a later-issued update, the regulator advised airlines to "exercise caution" deep inside Russia.

Russia suspended domestic flights to and from several airports near its border with Ukraine, including Rostov-on-Don, Krasnodar and Stavropol, until March 2. The step taken "to provide safety" for civil flights left dozens of planes grounded in southern Russia.
The US Federal Aviation Administration echoed the warnings by expanding an area in or near Ukraine where American airlines cannot operate.
According to the flight tracking website FlightRadar24, skies above crisis-torn Ukraine have turned empty as nations halted flights over major safety concerns. As a result, airlines skirted the entire country in crowded corridors to the north and west, leaving a big hole on the aviation map.
The data shows that an El Al flight from Tel Aviv to Toronto made a U-turn out of Ukraine's airspace around the time of its closure, while a LOT Polish Airlines flight from Warsaw to Kyiv also turned back. Kyiv-bound flights operated by Air India and Aegean Airlines soon followed suit.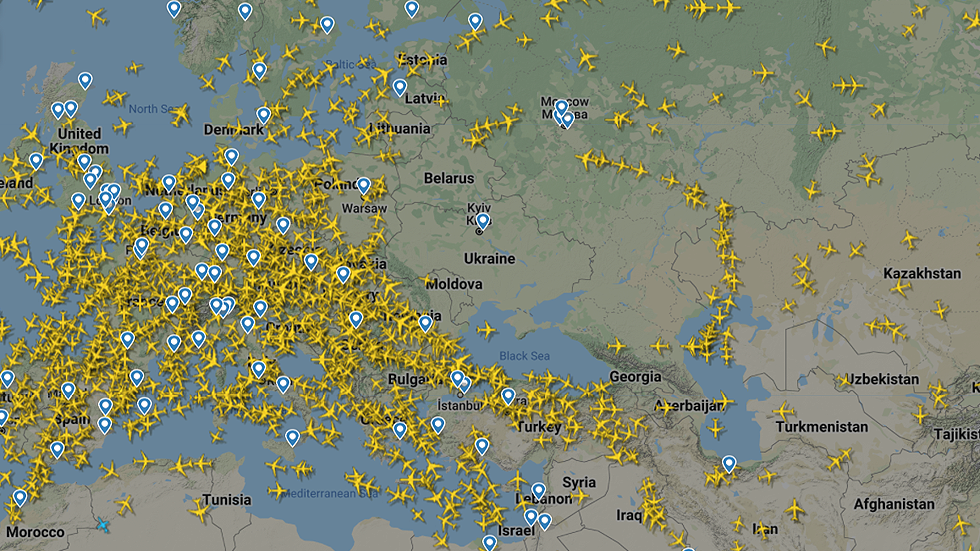 Ukraine International Airlines diverted one Kyiv-bound flight to Moldova while some of its planes remained grounded in Kyiv. Last week, the carrier sent part of its fleet to safety abroad. Meanwhile, Hungary's Wizz Air said it was trying to evacuate Ukrainian-based crew, their families and four aircraft.
READ MORE: Oil breaches $105 as Russia-Ukraine conflict intensifies
Additionally, Russia closed its airspace to British planes on Friday in response to a UK ban on Russian carriers from entering Britain's airspace or landing on its soil. London included Russian airlines in a package of sanctions imposed to punish Russia for its military attack on Ukraine.
The crunch will inevitably cast a shadow over a wider travel demand for the third northern summer in a row, after two years of severe restrictions due to the coronavirus pandemic.
For more stories on economy & finance visit RT's business section